Custom Home Builder in Northwest Indiana
Steiner Homes is one of Northwest Indiana's premiere custom home builders. We provide stunning homes in charming communities that offer all the amenities you want. With 30 years of custom new home design experience in Valparaiso along with Lake, La Porte, and Porter counties, we're uniquely equipped to help you construct the perfect house for your family. Our process includes understanding exactly what you're looking for and then finding a way to provide it. With our gorgeous lots and expansive floor plans, you'll find everything you're after in your newly constructed Indiana home.
Working With Steiner Homes
Our expert team will guide you throughout the home-building process. We take the time to get to know every client at the beginning of the construction process so that we can make sure you get the home of your dreams. We offer beautiful floor plans to get you started and a wide range of customization options. Here at Steiner Homes, we also offer custom kitchen designs, making it easy to build the kitchen of your dreams. Whether you're building something from scratch or remodeling part of your existing home, Steiner Homes of Indiana is here to help.
Moving to Northwest Indiana
When you're searching for a new home, location is everything. Northwest Indiana is a great place to live, offering the best of everything. You'll enjoy access to both urban amenities and natural highlights from one idyllic location. Here are some of the things that you'll enjoy living in Northwest Indiana.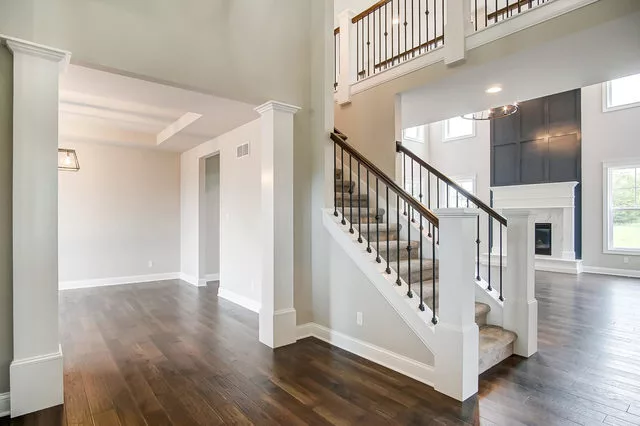 Affordable Living Near Chicago
We understand that living in Indiana vs Illinois can be a tough decision! Indiana is cheaper than Illinois in nearly every area. The overall cost of living index is 7.3% higher in Chicago than in Valparaiso, and 46.2% higher in Chicago than in Michigan City. The Indiana state income tax is just 3.23%, compared to 4.95% in Illinois.
The median property taxes in Illinois are nearly triple those enjoyed in Indiana. You can get a luxurious home for a fraction of the price when you choose to live in Northwest Indiana rather than southern Illinois. All the highlights of Chicago are still easily accessible from this area. The South Shore Line will get you into the city quickly, and kids even ride for free!
Outstanding Educational Opportunities
If you're raising a family, the local school system will rank high on your list of critical factors when choosing a home. Valparaiso and Crown Point are particularly well-known for having great school systems. Valparaiso is home to Valparaiso University, a select Lutheran private university with five undergraduate colleges.
Indiana as a state is also home to a number of outstanding public universities, including Purdue University, Indiana University, Ball State University, Butler University, and the private University of Notre Dame. If you have young adults who will soon be attending college, it's important to think about where they might want to go. In-state tuition is far lower than out-of-state costs.
Access to Natural Highlights
Northern Indiana is home to Indiana Dunes National Park. With over 15,000 acres of prairies, forests, rivers, dunes, and marshes, this park offers a seemingly endless range of areas to explore. Northwest Indiana also has 25 miles of beaches along Lake Michigan. Smaller parks abound as well. Valparaiso alone has 14 children's playgrounds and over 700 acres of parkland, including 23 miles of paths, two golf courses, and 27 athletic fields.
Benefits of Working with Builders in Northwest Indiana
Investing in a new-construction home offers a wealth of benefits over purchasing a pre-owned home. When you choose to build your house with Steiner Homes, you have the opportunity to create a custom living space that's personalized for your exact needs. There's a lot to enjoy with a home that's constructed just for your family.
Easton Park
Last available Lots in Chesterton
from $450k
Marina Shores
Marina Living
from $500k
Hawthorne North
Last available Lots in Valparaiso
from $500k
On Your Own Lot
Lake & Porter County
from $350k
Lower Initial Maintenance Costs
When you choose to purchase a newly constructed home, everything about it is brand-new. No more worrying about repair costs shortly after closing or having to replace an appliance that you thought was in good shape. Get a new home with a modern heating, ventilating, and air-conditioning system, fresh drywall, and expertly installed flooring to save yourself some stress.
We'll carefully construct your home to meet all current building codes and regulations so there's no need to think about updating or refitting anything. While you might need several inspections and adjustments to get a pre-owned home up to your standards, this isn't the case in one of our newly constructed homes, as everything is perfect for you from the beginning.
Floor Plans Made for Your Needs
At Steiner Homes, we offer a selection of three-, four– and five-bedroom floor plans ranging from around 1,800 square feet to more than 3,000 square feet. You'll find sophisticated features such as expansive great rooms, versatile nooks, separate dining rooms, and spacious lofts. You can go for large walk-in closets, his-and-hers closets, or convenient closet spaces tucked inside the master bath. It's easy to customize your floor plan for your family and lifestyle.
The House You Want in a Neighborhood You'll Love
Not only can you select your floor plan with Steiner Homes, but you also get to choose the neighborhood where that home will sit. Pick the exact lot that you want to live on, whether you like a corner lot, a space in a cul-de-sac, or easy accessibility on the main road. We work all over Northwest Indiana, meaning we always have plenty of great lots to choose from in excellent communities. Choose a community that feels like home, and build your personalized house right where you want it.
A Space That's Ready to Live In
When you move into a Steiner Home, everything is ready for you. We freshly paint the rooms in quality Sherwin Williams colors, stain the handrails, and install the trim neatly in place. We equip the kitchen with everything you need, including a garbage disposal, soap dispenser, dishwasher, and microwave hood. You don't have to spend any time cleaning up, repairing the space, or getting it ready for move-in. It's all waiting for you.
Here at Steiner Homes, we know that we're not just building houses, we're building homes. We want our customers to feel comfortable not only with the finished product but the entire home-building process. If you're ready to embark on the exciting journey of building your new home in Lake or Porter Counties, contact our team today. We can walk you through every step of the process and help you get into your dream home.
About Us
As one of Northwest Indiana's premier custom home builders, Steiner Homes Ltd. is both passionate and skilled in building distinct and affordable homes in a great location. We offer our customers beautiful new homes that include a wide variety of floor plans, the area's best package of select features, and clear fair pricing. We are currently building most of our homes in Lake and Porter county, but have homes all over Northwest Indiana. We strive to meet our customers needs by having a wide range of gorgeous and varied lots available, but we will also build on pre-owned lots.
Steiner Homes has homes in Valparaiso, Crown Point, Schererville, Dyer, St. John, Chesterton, Hammond, Hebron, Michigan City, Gary, Winfield, and many other great communities in our region. Our team is dedicated to making sure every detail is thought out and that your home is the best for both your needs and your budget. Our skilled home designer will work with you to find the best way to combine your ideas and desires, while using our 30 years of custom home design in order to design the perfect home for you and your family. We know that your home will be a reflection of your hard work, and we strive to deliver not only a beautiful well-crafted home, but a process that is both enjoyable and fair! Call now to speak to your Northwest Indiana custom home builder!
– Steiner Team –