Whether you're expanding your family or trying to de-clutter around the home, it's always a good idea to stay organized in the kitchen. Not only can a clean kitchen counter keep your home bacteria-free, but it also gives you more space for food preparation and adds to your home's clean atmosphere. In addition, members of your household may feel more inclined to gather in the kitchen when it's in top shape. Use this guide to help you steer clear of messes and get your kitchen counters back in order.
What should you leave on display?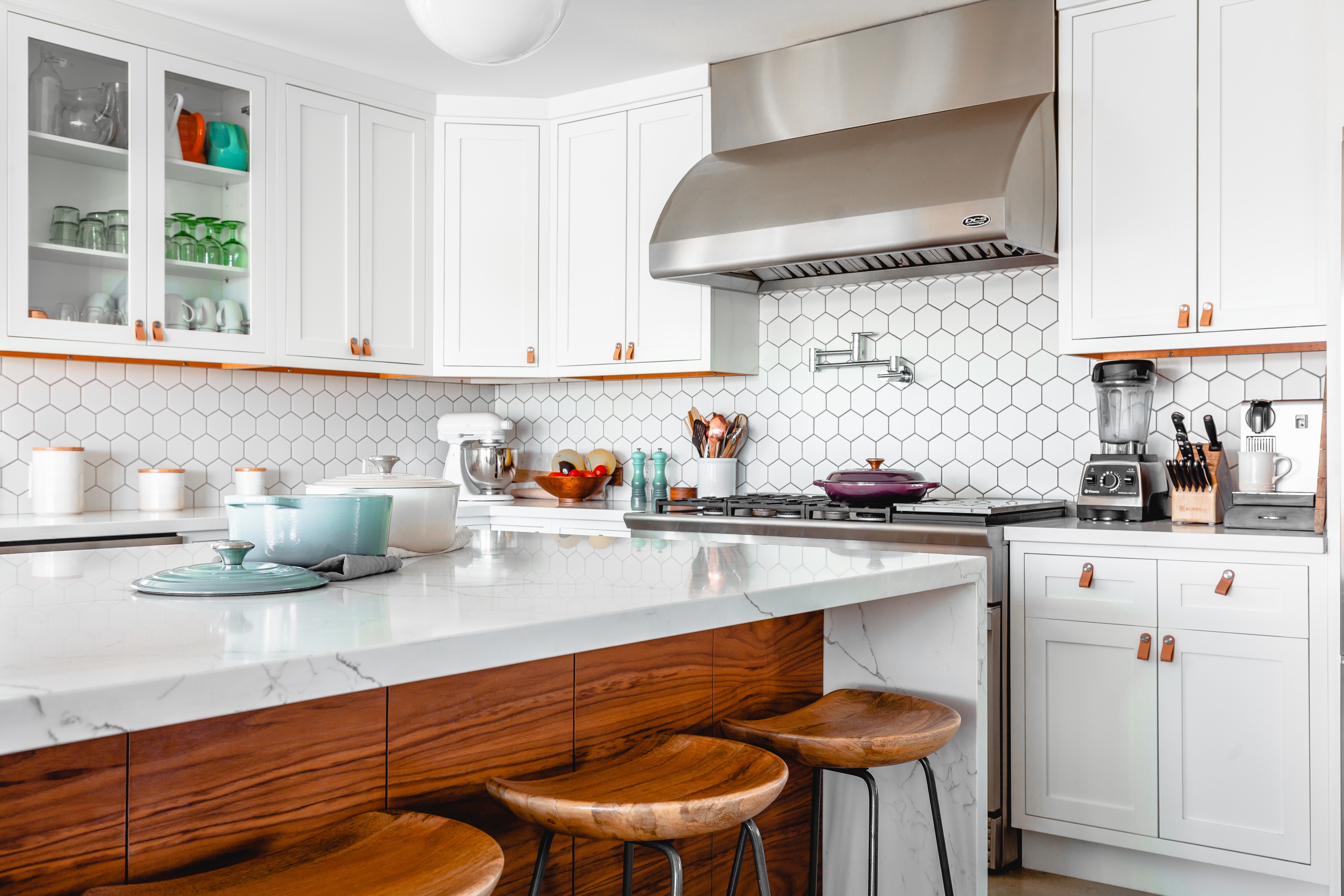 Image via Unsplash by Creatv Eight
You should leave items that you use regularly on display. This includes anything you use more than a few times a week. Before you throw everything out, start by determining what kitchen appliances and tools you need easy access to. Once you know what you need to keep on your kitchen counter, you can start organizing and finding a home for your other items.
Clear off as much as you can from your counter to give you more space to work with. If it's not something you use at least a few times a week, reconsider its place on your kitchen counter. Consider getting rid of duplicate items, untouched cookbooks, or expired food like old flour that you may have sitting on your kitchen counter. Since you may not use your cookbooks each day, you can store them up on a higher shelf or other location to free up space. You can also store things like your keys, mail, or old kitchen appliances elsewhere.
When it comes to appliances, only display the attractive ones that match your decor. The rest you can store in cabinets. If you're buying a new home, consider putting a built-in microwave in your kitchen island instead of on your kitchen counter. You can also store paper towels on top of your fridge, in your pantry, or hang them from a holder on a kitchen wall.
How should you use storage?
Once you've cleared off your kitchen counter, start grouping items together to create a more cohesive and orderly look. Consider purchasing some storage or using items you have lying around the house. You can use these to store various things like kitchen utensils, spices, and oils. Here are some simple ideas for kitchen counter storage:
Pitchers, mason jars, canisters, or oversized cookie jars: These are great for storing a variety of kitchen items. Grab a pitcher or large mason jar and place your kitchen utensils inside of them. You can also use mason jars to store flour, salt, cereal, and cooking and baking essentials. Oversized cookie jars can hold sugar, small coffee creamers, or their intended purpose, cookies. Make sure that all of your jars are tightly sealed if they hold food.
Tiered baskets: Tiered baskets — either woven or wired — are great for holding fruit, vegetables, or other kitchen counter belongings. Since it's tiered, it can hold more than a single-level basket.
Lazy Susan: This is another great way to keep your kitchen counter items in one place. It also allows for easy access to certain items since you can swivel the Lazy Susan around. Use it to store cooking oils, canisters, or your salt and pepper shakers.
If you want to store items you previously housed on your kitchen counter elsewhere, think outside of the box. Here are some storage ideas that can keep kitchen essentials off your countertops:
Hanging planters: These planters are a great way to get produce off of your kitchen counters and draw your attention elsewhere. It also ensures you see your produce regularly, which can prevent them from going bad.
Hooks: Use hooks under your kitchen cabinets to store your utensils. This helps clear off counter space while adding a vertical element to your kitchen once you hang things from them. You can also add hooks to your backsplash and hang things like your dish scrubber or towel. To do this, add a few adhesive hooks above or near your sink.
Top of the fridge: You can also get items off your kitchen counter by putting them on top of your fridge. Consider storing appliances that match your decor like your cherished dutch oven or rice cooker.
Cake stands: Have a pretty cake stand? Take it out of storage and use it as a tray on your kitchen counter. You can set various items like oils or salt and pepper shakers on it. Since it's elevated, it doesn't take much away from your kitchen counter real estate.
How can you use shelving units?
Shelving units are a great way to store items away from your kitchen counter. You can use them to store dinnerware, cups, or other kitchen necessities to free up additional counter space.
How can you store your kitchen spices?
If you're used to having your kitchen spices out on display, find a way to keep them organized. If you're set on having them out in the open, consider investing in a spice rack that's either mounted on a wall or displayed on your counter. As long as the spices are grouped together, they look organized. You can also keep them hidden and store them in a designated drawer, in a cabinet caddy, or in a pull-out cabinet organizer in your kitchen. There are several other ways to store spices in your kitchen so find the method that suits your needs the best.
What's the best way to tackle kitchen counter organization?
If you have a large kitchen counter, take it one section at a time. Put your frequently used items in one area, your flower vase in another, and your pen and notepad in another. If you keep them in their designated areas, it can help you remember where they are later on. It also keeps you accountable if you ever find something out of place. This can prevent disorganization in the future.
Now that you've learned these tips, it's time to put your organizational skills to the test. Have additional tips to add or more questions on kitchen design? Contact us today!