The kitchen and dining room combo is a popular feature of open-plan homes. It's also a great renovation to undertake if you have a small kitchen and need additional space and functionality. This expanded area allows for roomier dining and better storage and makes it easier to entertain guests. You may be looking to renovate your current home to expand your kitchen and dining area, or you may be looking for tips to make your existing space work better for you. Either way, we have several ideas below:
Divide With an Island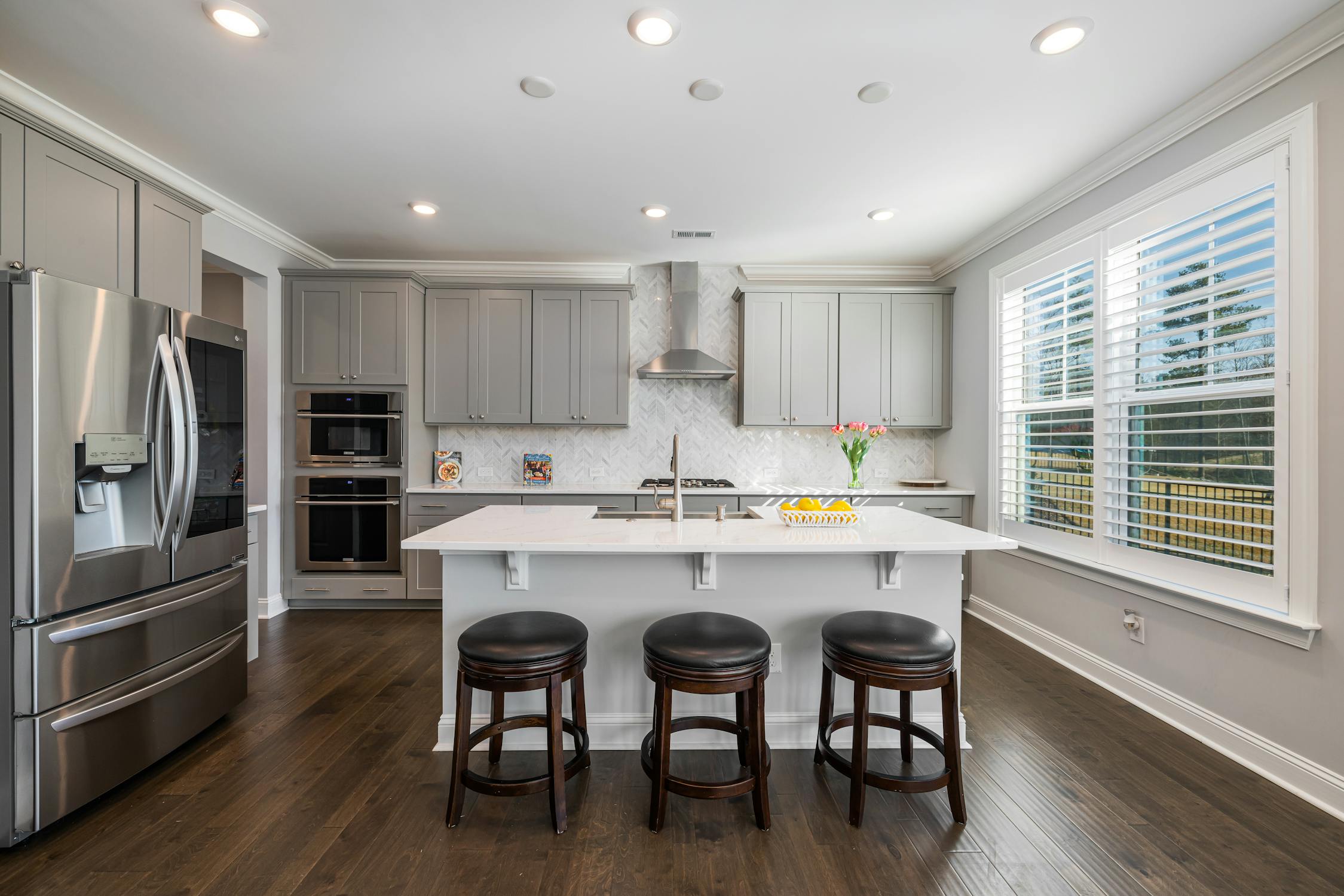 In an open plan kitchen and dining room, the kitchen island is a wonderful way to get more counter space and keep the open area from feeling overwhelming or unfilled. If you're looking to renovate and don't have an island, you should make adding one a top priority. The kitchen is a central part of the home and is an area where people tend to congregate. An island is a good place for guests to gather or for kids to do their homework while they enjoy snacks.
Islands are smart solutions that work in both large and small spaces. In a small space, the island can also function as the dining room table itself. If the dining room table is small, the island can double as a buffet for placing the food dishes. In a large space, the island offers additional table seating, a more prep surface, and a great spot to set out snacks or drinks while entertaining.
Try Bar Stools or a Breakfast Nook
A formal dining room table isn't for everyone. Sometimes, you don't have the space for a large table, and other times, you're not a fan of traditional dining sets. Even if you have a large table, it may not always be the coziest place for your family to spend time. Bar stools at the kitchen island or parked at the kitchen counter create a multifunctional space that doubles as an eating area.
If you have a beautiful window or an out-of-the-way corner in your kitchen and dining room combo, consider adding a small round table to create a breakfast nook. Breakfast nooks are also great places to sit with a cup of coffee and a good book before you start your day. You could also think about getting a table that expands or folds. You can pull it out of the breakfast nook and make it larger when you've got a big dinner planned and leave it small and informal for everyday use.
Treat Your Cabinets Like Accents
When the kitchen and the dining room share a space, the kitchen cabinets will be on full display. Use renovation as the perfect time to change up your cabinetry. If the layout and storage aren't what you need, you can upgrade the whole cabinet design. Otherwise, replacing or painting the doors and changing out the handles will improve your space. Consider how the cabinets fit within the rest of your space's aesthetic; they're functional, but they can also provide design accents.
You may opt for some open shelving in your kitchen area as well. This can make the space look very trendy and attractive, especially if you have nice dishes or pretty accent pieces to display. Keep in mind that open shelves need to be kept clean and clutter-free. Otherwise, they may close down your space, giving you the opposite of your desired effect.
Illuminate With Hanging Lights
Good lighting is essential in the kitchen and dining room area and can be the difference between a bright, welcoming space and a dark, closed-in area. Hanging lights create layers of illumination in your kitchen and dining room. They also serve as design accents, which is especially great in small spaces where you have to prioritize function over form.
Once you've decided where your dining room table will sit in your renovated space, install some lights that will hang over the table. Don't drop them down too low, but get a few attractive fixtures that hang a foot or two from the ceiling. The ambiance will be upscale and cozy at the same time.
Visually Divide the Space
A kitchen island or a strategically placed table will divide your kitchen and dining room to make it feel like two distinct spaces. However, you can use other design tricks to create divisions that don't impede your use of the room. Adding an archway or a few columns creates the impression of separate rooms. You might also consider adding an open shelving unit that you can view from either side and placing a few nice vases or plants on it.
You can also divide your space with an area rug beneath the dining room table. Consider using complementary but different colors in the dining space and the kitchen to create a visual divide between the two.
Use Smart Storage
The size of your space goes a long way in letting you know what kind of storage solutions you need. Small spaces should take advantage of solutions such as floating shelves and tables with built-in storage. The more storage you have, the less clutter there will be within that small space, and you can keep a surprising number of kitchen utensils in a small space with good storage options.
If you're renovating a large space, take the opportunity to add storage solutions you've always dreamed of but never had. Do you want to hang your pots and pans above the stove? Have you always wanted a glass cabinet to display your pretty dishes? This is your chance; the new combined kitchen and dining area affords you the space to do something new with your storage.
The Indiana Home of Your Dreams
When it comes to your kitchen and dining room combo, don't settle for any less than your dream space. The professionals at Steiner Homes take your unique needs and personality into account when building a home, and you can be sure they will customize the process to you from start to finish. Talk with our team about your kitchen and dining room needs. We're excited to get you one step closer to the perfect living space. Contact us today to get started.
Photo Credit: Modern Kitchen Design by Curtis Adams is licensed with Pexels License